Valencia private tour
E-Ticket
Instant Confirmation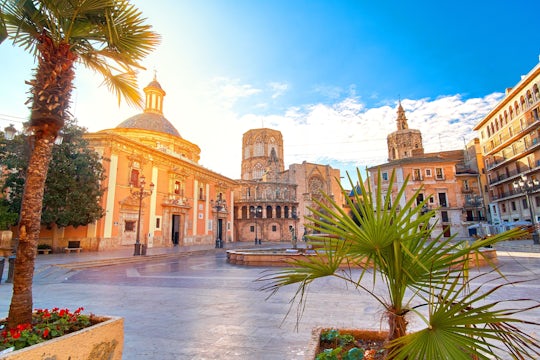 Discover the city center of Valencia booking this 3-hour private guided tour. Discover some of the most important monuments including the main cathedral and Plaza de Toros.
Itinerary Details
Operated by: Musement S.p.A.
Get ready to discover Valencia, a city full of history and monuments that represent the different cultural influences during the past. Don't miss the opportunity to enjoy a private walking tour where you'll learn more about the city accompanied by a professional guide.The experience will start departing from Valencia's North Station, and you'll cross the entire historic city center to arrive at the Serranos Towers. During this private tour, you'll enter inside modernist buildings including the North Station, the Cybele Palace, the Municipal Palace with its panoramic balcony view as well as the central market. From the outside, you'll admire and learn about the Plaza de Toros, the Lonja de la Seda, Saint Giovanni's Church and Santa Caterina's Church with its Gothic bell towers, three doors (Romanesque, Gothic and Baroque) and famous El Miguelete bell tower. In addition, you'll be able to admire the general and parliamentary Royal Palaces, as well as beautiful squares including the Ayuntamiento, Redonda, Lope de Vega, de la Reina, de la Virgen, and de la Almoina. In the middle of this private tour, enjoy a quick break to regain your energy and strength with a delicious espresso! The tour will come to an end at the Serranos Towers, facing the gardens at the bank of the Turia River. You'll have the opportunity to discover at least 12 monuments with your guide visiting four of them, ranging from Gothic to Baroque to Modernist.