Colosseum skip-the-line walking tour with Roman Forum and Palatine Hill
6 Ratings
E-Ticket
Instant Confirmation
Pickup Service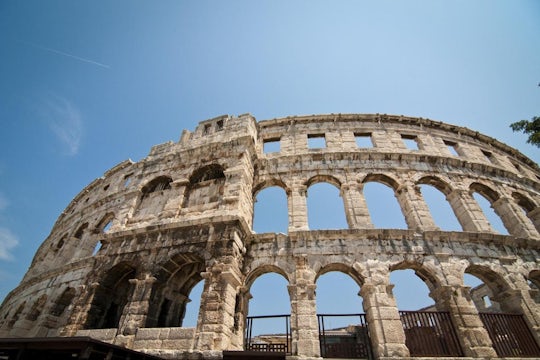 Skip-the-line access to the archaeological wonders of Rome including the Colosseum, Roman Forum and Palatine Hill on a 3-hour guided tour.
Itinerary Details
Operated by: Gray Line I Love Rome
Walk in the footsteps of giants on this guided tour through the heart of the Roman Empire and learn the history behind it all, from the minute to the magnificent.Pause to contemplate the genius that took the Colosseum from concept to reality in 70 to 80AD; centuries before the advent of modern engineering. Once the most famous meeting place in the world, the amphitheater is estimated to have once held 50,000 to 80,000 spectators. Your Gray Line pass will allow you to skip hours of long lines to enter the Colosseum directly.Once inside, breath in the bloody past of the edifice, brought to life again by your passionate, expert guide. Standing for nearly two millennia, the structure has been a symbol of both glory and scorn, serving vastly different purposes over the course of history. Just outside, you'll see the magnificent Arch of Constantine.Continuing the walking tour, discover the excavated ruins of the Roman Forum archaeological site, where many structures remain intact to this day. For a city founded in 753BC, this is no small feat. Continue exploring the breathtaking Palatine Hill, ending your tour with a deeper connection to the history of Rome and a strong foundation of knowledge. On the Palatine, Romulus and Remus were found by a she-wolf that kept them alive, which is supposedly how Rome received its name, so the legend has it. On the other hand, Rome might derive from the Etruscan word Rhumon (river). This is something we will never know. What we do know is that Rome has gained in popularity over that last 2,000 years and has proved worthy of its nickname "the Eternal City".At the end, you'll have time to continue exploring the area on your own or return to your hotel.