Small-group day trip to Delphi from Athens
1 Rating
E-Ticket
Instant Confirmation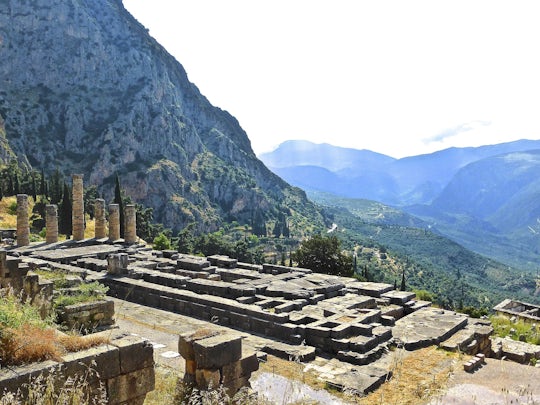 Discover Delphi Archeological Site and Museum with a professional tour guide. Admire the Springs of Krya in Levadia and have lunch in Arachova.
Itinerary Details
Operated by: #tag ATHENS
Discover the Archeological Site and Museum of Delphi and other fascinating places with a licensed tour guide. In just one day, you'll have the opportunity to visit the Temple of Apollo, the Sanctuary of Athena Pronaia and other iconic monuments in Delphi, see the spectacular Kryas Springs in Levadia, and indulge in a delicious lunch at a traditional taverna in Arachova. Your guide will make sure that you won't miss a single thing!Meet your guide in Athens and depart immediately for Delphi. Find yourself immersed in the famous tales of Greek mythology and the monuments of ancient Greece as you pass through Boeotia plain and stop at the enchanting valley of Kryas Springs in Levadia; the walkways along the banks, streams, limestone formations as well as stone and wooden bridges create the perfect scenery for a short stroll.Once arrived in Delphi, your guide will show you some of the most important monuments of the archeological site, including the Athenian Stoa, the Treasury of the Athenians, the Polygonal Wall, and of course the Temple of Apollo. Next, you'll visit the Archaeological Museum and learn about world-famous artifacts like the Naxian Sphinx, the frieze of the Treasury of the Sifnians, the bronze Charioteer and the statue of Antinoos.The picturesque village of Arachova will be the last destination of your journey. After a typical lunch (not included) at one of the many traditional restaurants in the village, spend your time as you wish. Take a pleasant stroll through Arachova's narrow alleys, browse the craft shops of hand-woven carpets and buy Formaela cheese and other local delicacies before being taken back to Athens in the late afternoon.