Rome-Pompei transfer with entrance tickets
6 Ratings
E-Ticket
Instant Confirmation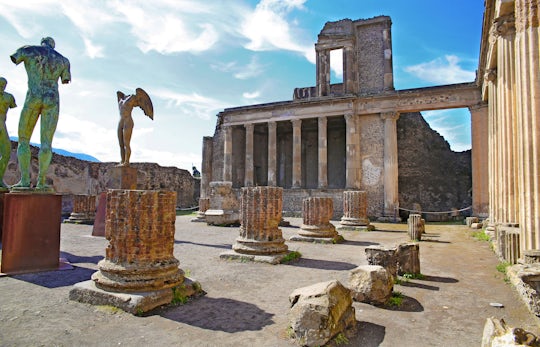 Take the round trip service from Rome Tiburtina to Pompeii: Touristation assistance on site with audio guide and skip-the-line tickets included!
Itinerary Details
Operated by: Ticketstation srl
This is the only package where you can select your personal time to directly head to Pompeii and enjoy this fantastic experience at your own pace.Hop on the new and comfortable scheduled bus company: the bus stop is at Tiburtina hub main metro and train station, where you'll meet your Touristation representative.Once you arrive in Pompeii, you'll receive Touristation assistance both when getting off the bus right up to the entrance of the Archaeological area itself. You'll be fully assisted by the staff, who will provide you with your audio guide, a map and your skip-the-line tickets.When Mount Vesuvius erupted in 79AD, it left a flourishing city in ruin but it also captured a day in the life of a Pompeian forever fossilized – turning what once was tragic into modern day magic. These volcanic ruins, immortalized in pumice and ash, have quite literally allowed history to be frozen in time, like no other experience on Earth.Walk among the cobblestone streets, where Pompeian villagers and aristocrats alike once went about their daily activities. Explore their homes, including recently opened residences of the ancient elite, and marvel at the brightly painted frescoes and marvelous mosaics.Take your bus back to Rome. Once arrived, you'll still have enough time to enjoy your evening in Rome.