Elafonisi beach guided tour from Chania
E-Ticket
Instant Confirmation
Pickup Service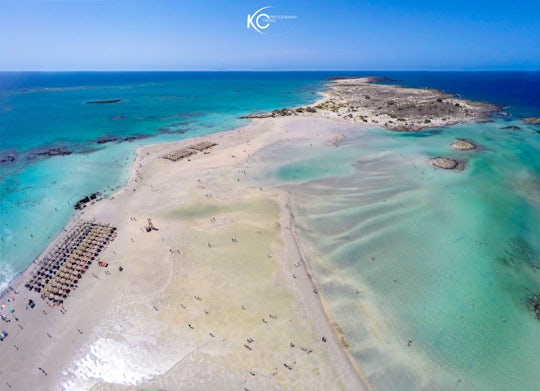 Discover Elafonisi beach during an amazing guided tour from Chania and rest assure to remain speechless in front of the beauty of this pink beach.
Itinerary Details
Operated by: TRAVEL PATH
Pay a visit to one of the most amazing beaches on earth – Elafonisi! It is in the south-western corner of Crete and is characterized by its crystal-clear water and pink coral sands. Are you ready to start your tour? Your pick-up will be approx. at 8am.After one hour and a half, you will arrive at St. Sophia Cave. Built at a height of 80 m from the main road that crosses the Topolia Gorge, you will find an ancient church inside the cave. Cretan soldiers, who had fought at the siege of Constantinople, carried the icon of Saint Sophia on their way back to Crete. The cave is 10 m wide and 20 m high and stalactites, stalagmites and pillars cover the largest part of its surface.Around 11.15am, you will reach Elafonisi beach, the famous lagoon with its pink coral sands and the crystal-clear water. You can have a sunbed or wade across to the island. Don't miss the chance to enjoy a drink in one of the bars and canteens in the surroundings. On the way back to Chania (around 3.15pm), you can stop in a local village for lunch (not included). You will arrive in Chania around 5pm – 6pm.