Nature experience day at and on the Neckar river near Stuttgart
E-Ticket
Instant Confirmation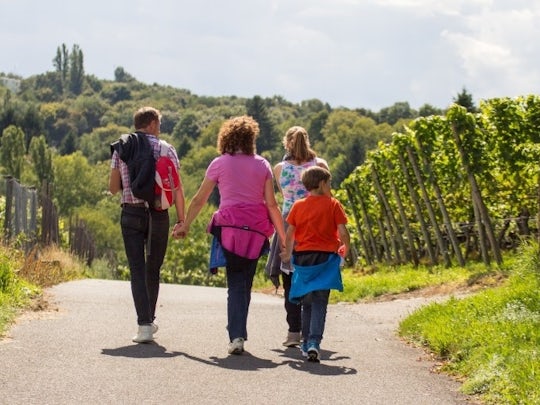 Experience the Stuttgart recreation area Max-Eyth-See in a sporty and exciting way! Explore nature by canoe, city scooter, and on foot.
Itinerary Details
Operated by: Cool-Tours StattReisen
Experience Stuttgart's green side in a sporty and exciting way!You can expect a wonderful, varied day of experience around the Stuttgart recreation area Max-Eyth-See. Your nature experience package consists of: Station 1: canoe tour or water shoes on the Neckar river With the appropriate equipment, you can start your nature adventure day on an approx. 1-hour canoe tour on the Neckar river. Different canoes of different sizes are available here from the beautiful idyllic Riverhouse available for your personal paddling experience. Alternatively, you can also choose stand-up paddling or water shoes (upright over water in Nordic walking or cross-country skiing style). Station 2: Searching for traces in the Stuttgart vineyards Equipped with a roadmap, it goes on an exciting discovery tour. Solve all sorts of puzzles between the beautiful vineyards. The approximately 3.5 km long tour will run over the points Freienstein, Tappachtal, Wetterwarte, and Schnarrenberg. You will be rewarded with wonderful views of the vineyards, the Max Eyth Lake, and the Neckar river. Station 3: Scooter tour around the Max Eyth lake Back at the Riverhouse, you get a scooter with a brake (unmotorized scooter) and after a briefing, you can enjoy a tour on the beautiful Neckar! From the Riverhouse you start to the Mühlhausen lock. Then it's all about the beautiful Max-Eyth-See before you drive over the suspension bridge to the Riverhouse. Station 4: Conclusion with stick bread and grilled sausage Let the nature experience day end comfortably at the fire bowl at the Riverhouse. There you get a stick of bread and dough, a grill skewer, and a sausage or grill cheese to make yourself.