99-minute premium boat tour of Dubai Marina, Palm Jumeirah, Atlantis and Burj Al Arab
5 Ratings
E-Ticket
Instant Confirmation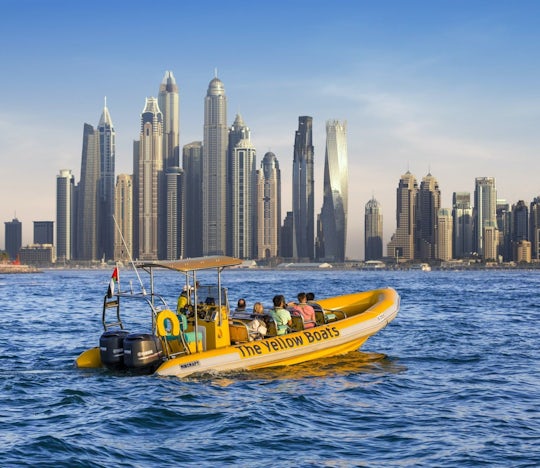 Enjoy a guided sightseeing boat tour of Dubai Marina, Palm Jumeirah, Atlantis and Burj Al Arab.
Itinerary Details
Operated by: TravcoEmirates API
Embark on a magical tour of the Arabian Gulf, through enchanting islands, amazing architectural structures, beaches and marine life. There's no better way to explore the incredible city of Dubai than out on the open water, enjoying the panoramic view of the city's magnificent skyline. When you embark on your tour, listen out for fun facts from the professional guides and have your cameras ready because you will be pausing for the ideal photo opportunities along the way. You will start your cruise through Dubai Marina, marveling at its spectacular modern skyline, the exclusive yachts in the dock and the vibrant urban lifestyle that the development supports including the famous JBR Walk. The tour continues to the luxurious Palm Jumeirah and the fairy-tale of Atlantis hotel. Finally, your tour will give you a front-row seat to the Burj Al Arab, the world's first seven-star hotel.