Gaucho day in Santa Susana with BBQ lunch and folklore shows
E-Ticket
Instant Confirmation
Pickup Service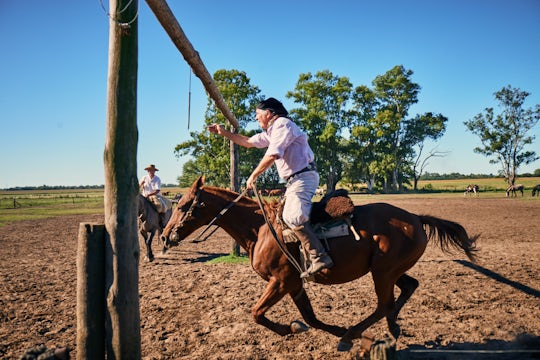 Enjoy a full day at Santa Susana Ranch, learn all about the Gaucho lifestyle, watch a folkloric show, and taste a true Argentinian barbecue grill.
Itinerary Details
Operated by: Grupo Summa Argentina
Enjoy a day in Estancia Santa Susana, near the town of Los Cardales, with local food and drinks, a BBQ lunch, horse riding, and folkloristic shows. Reach Santa Susana, and begin with a friendly welcome reception at the ranch with empanadas and wine. You'll be invited to visit the local museum and church before going horse or carriage riding to explore the ranch. Back at the restaurant, taste the amazing Parrillada (Argentine BBQ with different specialties of meat) accompanied by salads and drinks (red and white wine, soda, water, and coffee).After the delicious lunch, you can try the Mate (hot tea of Mate herb) and finish with delicious local pastelitos (Argentine pastries). During and after lunch, enjoy a tango and folklore show of music and dance. Then, the Gauchos will show off their skills with horses and weapons. Be ready to take part in the show.Around 16:30pm, the activities in the ranch will end and it will be taken back to Buenos Aires.