Etna and Taormina full-day tour from Palermo
1 Rating
E-Ticket
Instant Confirmation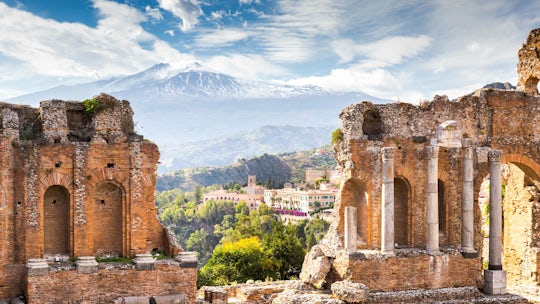 Book today to live an unforgettable experience in Sicily! Climb to the craters of Mt. Etna, visit the ruins of Taormina, and take in some of the best views!
Itinerary Details
Operated by: Ulisse Viaggi e Turismo srl
Enjoy a day-trip to Mt. Etna and Taormina from Palermo, to explore two must-see attractions of Sicily! Comfortably reach the sites via minivan transportation and take advantage of the free time to discover the wonders that you'll see. In the morning, you'll visit Mt. Etna, that with its 3.345 meters of height, is the highest volcano still active in Europe. Upon arrival, you'll reach the Silvestri Craters, two inactive craters formed as a result of the volcano's eruption in 1892. Once there you can also choose to climb the volcano by cable car or coach 4x4 up to 2.800 meters. In the afternoon, you will head on to Taormina, a pretty and romantic town on the slopes of Mt. Tauro. Here you'll have free time to visit the famous Greek theater, find out more about the importance of this city in the past and admire the amazing view over Mt. Etna and the bay of Taormina.