Cenotes Casa Tortuga Tulum from Tulum or Playa del Carmen
5 Ratings
E-Ticket
Instant Confirmation
Pickup Service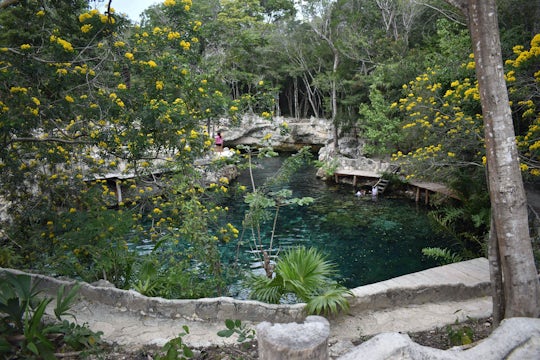 Visit Cenotes Casa Tortuga Natural Park. Discover mysteries of the ancestral caves, secrets of the Mayan jungle and thousands of adventures in its crystal clear waters.
Itinerary Details
Operated by: Encuentro T
Cenotes Casa Tortuga is a Natural Park full of adventures, experiences, and unforgettable moments. Discover the mysteries of the ancestral caves, and secrets of the Mayan jungle and live thousands of adventures in the crystal clear waters. This park is formed by 4 Cenotes to enjoy, each with a unique experience that you don't want to miss. You'll spend about 1 hour 20 minutes at each Cenote (approximate).Cenote Tres Campanas: A semi-open cavern, where you'll see stalagmites, stalactites and some ancient rock formations.Cenote Wisho: Immerse in this cavern and admire several fossils and see the place where bats live.Cenote Jaguar: A semi-open cavern, here you must be a little reckless and dare to contemplate the majesty of the Jaguar that is inside there, then you must go through a passage that leads us to a dry cavern where you can see the roots of the trees and some fossils, understand part of the Mayan culture and the legacy that the Gods left for us to continue enjoying this paradise.Cenote 3 Zapotes: This is a fully open type, over 100 meters long, and incredibly clear water. Here you can dive from a height of 3 meters to a depth of 8 meters. Be amazed by the jade green color and its crystal clear waters that allow you to distinguish the bottom of the cenotes. Countless fish, birds, and flora adorn the surroundings of this cenote.