Los Cabos' Arch and Playa del Amor kayak and snorkeling private tour
E-Ticket
Instant Confirmation
Pickup Service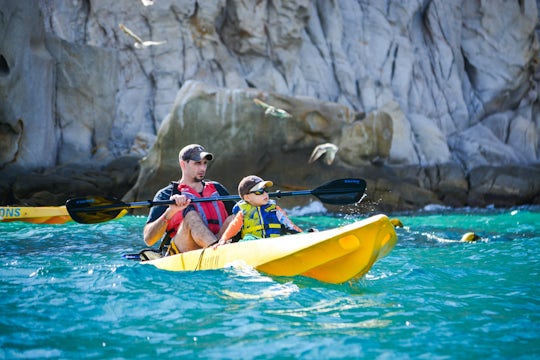 Discover the natural beauty and wildlife around the iconic peaks of El Arco and Lover's Beach on this 3-hour kayak private tour.
Itinerary Details
Operated by: HIGHT TIDE LOS CABOS SA DE CV
El Arco (The Arch) is the famous Baja Peninsula natural landmark where the Pacific Ocean joins the emerald waters of the Sea of Cortez. The Arch is not only an ideal habitat for marine birds and multicolored fish, but it is also an incredible place to observe a colony of majestic sea lions.You'll see an ever-changing underwater tableau of marine life through the kayak's glass bottom, with expert guides leading, you'll paddle right up to the rock formations and watch a colony of sea lions sunbathing. Next, you'll take a break after kayaking and start snorkeling. You'll immerse yourself in the crystal-clear waters near Pelican Rock, where schools of tropical fish will swirl around as you snorkel. You'll end this memorable experience near Playa del Amor (Lover's Beach), the last beach washed by the waters of the Sea of Cortez before reaching the Pacific Ocean.