Virtual tour of Seville Cathedral from home
E-Ticket
Instant Confirmation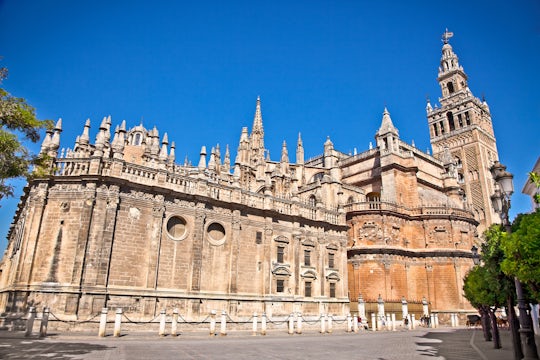 Take part in a hassle-free virtual visit to the Seville Cathedral from the comfort of your own home.
Itinerary Details
Operated by: Clio Muse Tours
Discover the Cathedral of Seville, one of Spain's most important monuments, right from the comfort of your home, thanks to this virtual tour. Just add the link you'll receive via email to your desktop or smartphone browser after purchase, sign up and get ready for a journey through time! You'll travel virtually to Seville and discover its cathedral, where you'll be able to explore the bell tower called La Giralda, the symbol of Seville and the tallest building of the city, as well as Christopher Columbus's tomb where his remains are still kept and Goya's painting Saint Justa and Rufina of 1817. This virtual tour blends together audio narration, real images, and satellite/street views of the cathedral and its surroundings. In most points of interest, you can move forward and backward, turn towards any direction, and admire what you would really see as if you were there. You'll learn all the important historical facts, discover unknown stories, and listen to interesting tales.