Amphibious bus tour Salzburg
1 Rating
E-Ticket
Instant Confirmation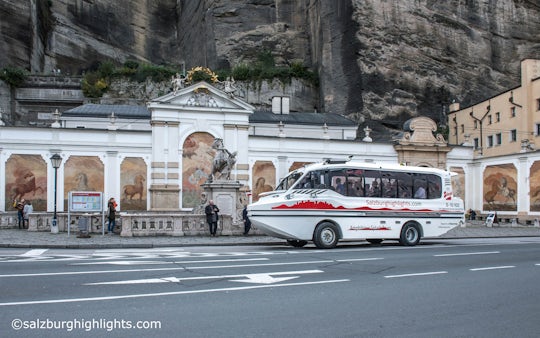 Cruise on an amphibious bus to explore the highlights of Salzburg by water and land. Enjoy an unforgettable experience for young and old alike.
Itinerary Details
Operated by: Salzburg Stadt Schiff-Fahrt GmbH & Co.KG
This is no ordinary tour, but a magical experience. The trip on the water and land with the concluding "splash down" into the Salzach, the live commentaries as well as the additional languages at your disposal all help to convey the sights of the city and its surroundings to you in an unbeatable way, the likes of which have never been seen before.You will see many sights such as the enchanting area around Mirabell palace, where today one of the most beautiful wedding venues worldwide can be found, Mozart's residence, Festival district, Leopoldskron Palace with Leopoldskron Lake, world-famous due to the scenes filmed for "The Sound of Music", old districts such as Mülln, and many, many more. On the way back to the drop-off zone, you will enter the Salzach with a "splash down", allowing you to see the skyline of the city of Salzburg from a unique and veritably once-in-a-lifetime perspective.Anyone, who has not yet done this tour, has not yet truly seen Salzburg, the city of Mozart.